In a world where first impressions are everything, the importance of cleanliness in commercial space cannot be overstated.
It's been said that it takes 3-5 minutes for someone to form an impression of your business based on its appearance. When you're trying to impress potential clients or customers, that time is crucial to building a positive impression.
Cleanliness is one of the key elements that affect how people perceive a business; if they walk into a messy environment, they will likely assume that the business itself is messy and disorganized—not a good sign!
That's why we here at Innovation Cleaning LLC are committed to helping our clients create a professional, welcoming environment for their customers. We specialize in commercial cleaning for businesses in Wyomissing, PA, and surrounding areas and offer customized plans designed with your needs in mind.
Furthermore, understanding your business needs is a key part of our service. We want to make sure that your customers never have a reason to question the quality of your products or services. By keeping your building clean and tidy, you'll be able to give off the impression that your company is professional, organized, and trustworthy. All things that will help attract new customers.
Why Choose Innovation Cleaning LLC for All Your Commercial Cleaning in Wyomissing, PA Needs
1) Unrivaled Professionalism
At Innovation Cleaning LLC, we believe that it's not enough to just clean your business. We believe in making sure that your business maintains a pristine image for everyone who sees it. That's why when you choose us for all your commercial cleaning needs in Wyomissing, PA; you'll be getting the best of the best!
We offer unparalleled professionalism and quality services that are second to none. Our team of professionals has been hand-selected through an extensive interview process and background check. Our team is more than qualified to handle any task you throw at them. Whether you need a weekly cleaning or occasional deep cleaning after an event. Our staff will be on hand to get the job done right every time.
And when it comes to professionalism—and everything else—there's no one better than us!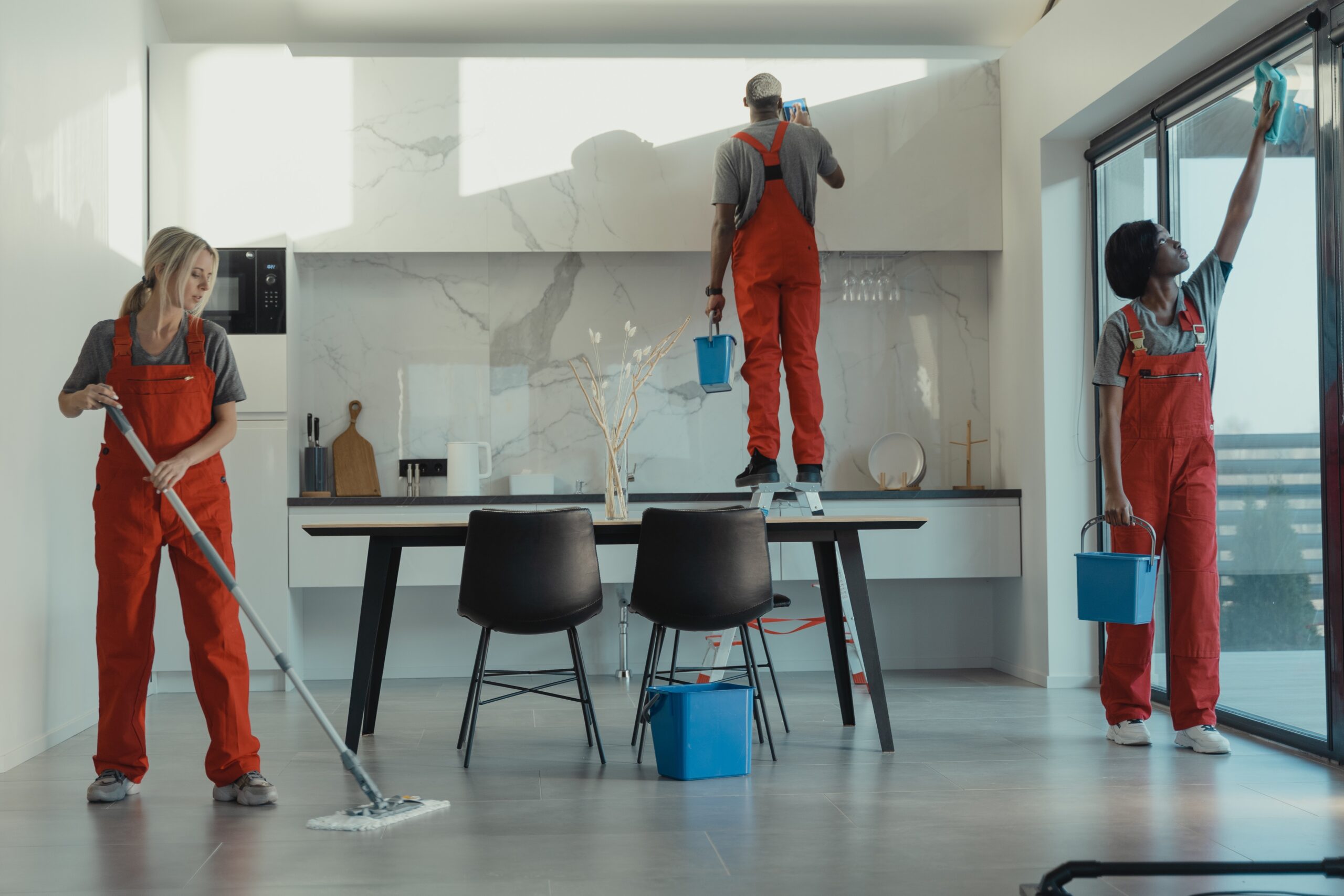 2) Timely Services; Guaranteed
If you're looking for a commercial cleaning service, Innovation Cleaning LLC has you covered. We offer timely services and a guaranteed commitment to cleanliness. Cleanliness that will keep your business running smoothly and efficiently.
Furthermore, when it comes to your commercial needs, we understand that time is money. That's why we strive to provide fast and efficient cleaning services so that you can get back to work. And without wasting precious minutes of your day waiting around for someone else to do the job. In addition, We have been providing these services for over a decade. This means we know what works and what doesn't when it comes to keeping businesses clean and running smoothly.
In addition, Innovation Cleaning LLC offers competitive pricing on all our services. You can rest assured that no matter what type of business you run. How large or small an area needs cleaning, we'll be able to fit it into your budget.
What's more, In any industry, it pays to have a reputable business partner you can rely on. You can be sure that your commercial cleaning in Wyomissing, Pennsylvania, is in the hands of a company that has been vetted by the Better Business Bureau. it also has been licensed and insured to perform the work in your workplace.
We know you want to make sure your business is run efficiently. As a result, we make sure that our staff is trained in the latest cleaning techniques and equipment. So that they can get your space back up to code quickly and easily. We offer our services to almost all commercial properties you need to be cleaned, we've got you covered!
If you're curious about our services or wanna know more about what we can do for you, hit us up! Don't hesitate to reach out!
Take Advantage of Our Specialized Commercial Cleaning Services
1) Post Construction Cleaning
After the construction of a new building or the renovation of an existing one, it's important to have a thorough cleaning to ensure that all dust and debris are removed. Our post-construction cleaning service includes everything from dusting and wiping down surfaces to removing construction waste and ensuring that all areas of the building are clean and ready for use.
2) Move-In and Out Cleaning
Moving can be a stressful and time-consuming process, but our move-in and out cleaning service can help make it a little easier. We'll take care of everything from cleaning floors and windows to dusting and sanitizing surfaces to make sure your new space is ready for you to move in or your old space is left in top condition for the next tenant.
For businesses that need regular cleaning services, we offer reoccurring cleaning plans tailored to your needs. Whether it's daily, weekly, or monthly cleaning, we can work with you to create a schedule that works best for your business.
Lastly, dirty carpets can be a turnoff for customers and can also contribute to poor indoor air quality. Our carpet cleaning service includes deep cleaning, stain removal, and deodorizing to keep your carpets looking and smelling fresh.
No matter what your commercial cleaning needs may be, we have the expertise and experience to get the job done right. Contact us today to learn more about our services and to schedule a cleaning for your business in Wyomissing, PA. Also, check out our service areas page to learn more about the other cities we service.